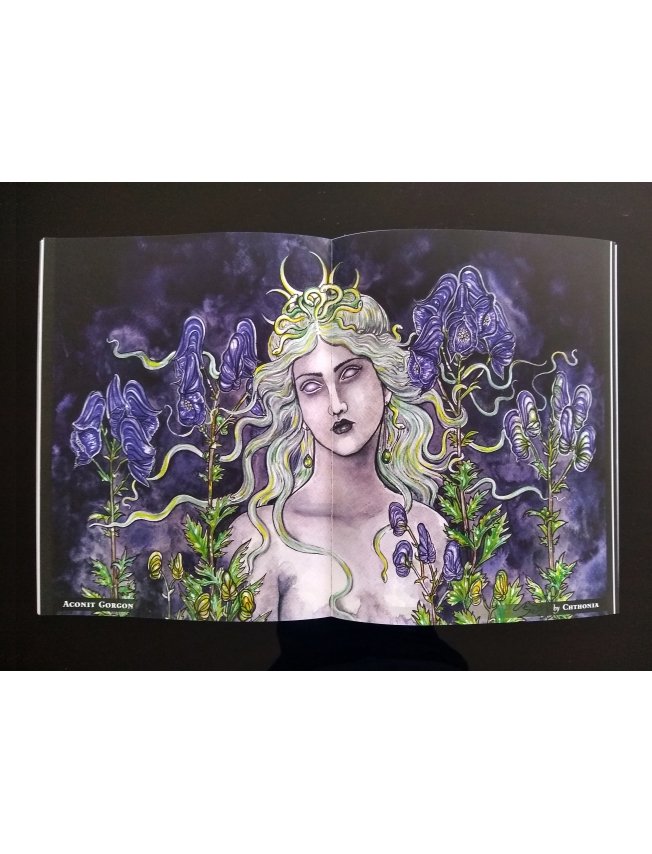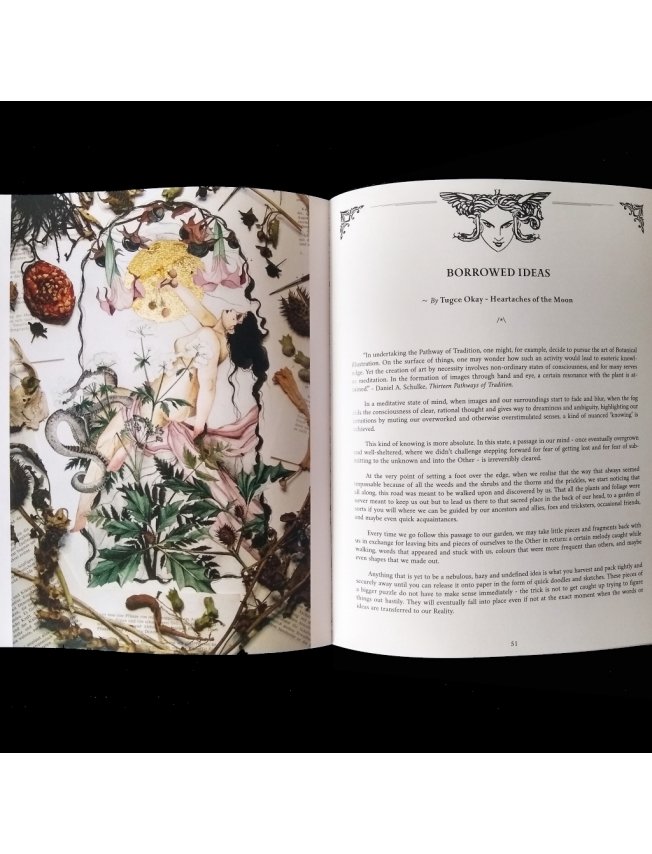 ALRAUNE: THE POISONERS GUILD - ARTISANAL Edition
ARTISANAL Edition  of ALRAUNE: THE POISONERS GUILD

Artisanal Edition with Slipcase
Strictly Limited to 13 hand-numbered copies.
Half-leather binding in Venetian Emerald Shagreen Leather on five raised bands.
'Ophidia Noctis' hand-made Marbled Endpapers.
Gold Foil on rounded spine. Coloured Headbands.
Printed on Munken 150gsm Archive-Quality paper.
Full-Color Interior. Including 90 High-Res Paintings and Illustrations.

> 188 pages, 21 x 27 cm. Shipping estimated: 12 weeks after preorder.

Authors: Chthonia, Rebecca Beyer, Tugce Okay, Idlu Lili Regulus, Coby Michael, B Drinnon...
Artists: Poison Plant Cult, The Witch Art of Azk, Dolorosa De La Cruz, Odona Bones, Cartis Mandua...

"I'm very impressed with the quality here, both in form and content!
Any Green Path / Poison Path afficionados ++, acquire with confidence!"

- The Foolish Fish




ALRAUNE: THE POISONERS GUILD

This second edition of Alraune Journal is dedicated to the exploration of the Poison Path with a focus on personal gnosis and practices offering a reification of what has been gained through the Poisoners dealing with the Spirits and Genii of the Verdant, Divine and Daimonic Intoxication. As the many plants haunting the enchanted grove of the Midnight Eden possess their own particular signatures, this second Alraune offers a unique panacea of visions, experiences and practices, reflecting in their diversity the various modalities of expression, gnosis and personae of those engaged in the Poisonous Artes. A compendium of refined Veneficia offered as the Serpent's Gift of Gnosis from Practitioners to Practitioners.

Large format: 21 x 27 cm, richly illustrated with more than 90 artworks and photos in color.

CONTENTS:

About the importance of the rite in the use of entheogens - Marcos Drake
The Way to Poison - Alexander Dushkov
The Devil's Supper or the Poisoned Eucharist - Soror Imperator
The Magicks of Mandragora - Trinidy Patterson
Possession and madness: the mysteries of ergot in rural Galicia - Vini de Monte
Borrowed Ideas - Tugce Okay
Poison Arrow and a gardener's journey - Poison Arrow
Building a bioregional Poison Path - Rebecca Beyer
Of Fire and Water : Poison in artefact quenching - Mayishtar
The Medeousa - Idlu Lili Regulus
Medea, the Poison of dishonour - Selenya
Virgo Infernus - Viridian Gnosis & Chthonic Sibilation - Chthonia
Venus suspended in Venenum - B. Drinnon / Overgrown Nightshade
Healing the heart with poisonous plants - Coby Michael
Beckoning helleborus in the winter garden - Amanda Shoemaker
Morning glory - Laurie Bianciotto
At the heart of the inexpressible and ecstasy in Mazatec territory - Marcos Drake
The Tree and the Snake: Jurema Sagrada & Ayahuasca - Mehdi Richard


ARTISTS:

Poison Plant Cult - Vide Supra Hoc Planum - Odona Bones - The Witch Art of Azk - Tugce Okay - Hens Tongue
La Cabane de Pan - Poison Arrow - Kathula - Dolorosa De La Cruz - Chthonia - Àsta Hagalaz - Elora Sperber
Cartis Mandua - Arkadiusz Danovski
⍫ Chthonia (Circle of Wolves) is a one-woman dark ambient & dark-folk project, channeling infernal witch-hymns of solemn invocation and ecstatic veneration, expressed through the vessel and voice of the Stygian Nymph. Chthonia expresses her own approach to the Path of Poisons through different mediums, such as in the Viridian Tomb I & II albums, where she whispers pernicious vespers to the venefic spirits residing in the night-garden of Hekate.


⍫ Amanda Shoemaker is an herbalist and artist from the Pacific Northwest. She is the owner of Helleborea Apothecary , a herbal shop ranging in products from aphrodisiacs to cocktail bitters. She is passionate about poisonous and psychoactive plants, aphrodisiacs, folklore, and ethnobotany. Deeply invested in esoteric herbalism, she displays such expression through photography, painting, and other artistic pursuits.


⍫ Soror Imperator is a French occultist, author, film maker, and herbalist. She studied cinema and aesthetics at the Paris 7 university and is an embalmer by trade. After being initiated into Haitian Vodou, she specialised in documenting funeral rites and herbalism in Afro-Caribbean religions, as well as folklore and folk healing in France and the syncretic link between them. She is the author of 'Rites Funéraires Vaudou' (2021 - éditions Fage) and is the owner of the 'Botanica des Grands Bois' in the middle of a natural park in Auvergne, France, where she resides.


⍫ Àsta Hagalaz (@astahagalaz) is a visual artist located in Athens, Greece. Taking insight from the natural world, dream-working and astral travel, Àsta captures her nocturnal visions through traditional paintings, digital art and photography, dedicating many of her creations to the great Goddess Hecate and her various dark & light forms and faces. Àsta has developed her own approach of the Poison Path through art and vampyric workings.


⍫ Alexander Dushkov (@gandalf_celiq) is a PhD student of molecular biology at the Bulgarian Academy of Sciences. His thesis focuses on cancer research and the effect of plant and fungal extracts on cancer growth and viability in vitro. Through his work, he became aware of the Poison Path: the poisons that cure and kill, and has since been pursuing the secrets of the phármakon through personal and academic researches. He passionately grows nightshades and focuses on observing the plants and learning from them via direct contact, while gathering relevant lore and academic knowledge about them.


⍫ Kristina is the artist and creator of Poison Arrow, a ritual apothecary & occult arts boutique (@poisonarrowapothecary ) focused on the Poison Path and Natural Magic. She grows her own poison garden with love and care, creates bespoke artifacts inspired by plant lore, mythology, and western esoteric traditions. Kristina is a self-taught artist and works with poisonous plants through study, experimentation and personal contact with their spirits. Passionate practitioner of the magical arts, gardener, forager, and traveler since a young age, she currently resides in Toronto, Canada and enjoys spending time in nature.


⍫ Rebecca Beyer (Blood and Spicebush) is the woman behind the Blood and Spicebush School of Old Craft. She lives in the mountains of Western North Carolina, where she teaches traditional witchcraft, foraging, and Appalachian folk medicine. She has a BS in Plant and Soil science from the University of Vermont and a Masters in Appalachian Studies and Sustainability, concentrating in Appalachian Ethnobotany at Appalachian State University. She spends her days trying to learn what her ancestors did and finding ways to share traditional skills by living in line with the Old Ways.


⍫ B Drinnon - @overgrown_nightshade (they/them) is a community herbalist in Denver, CO with a focus on providing herbal grief support. They studied with a local certified herbalist, following a year internship; gaining experience while maintaining focus in continuous learning after the program 7+ years later. B has formulated coveted herbal blends and house products for Ritual Cravt (Ritualcravt) as well as, collaborating with others in their spiritual community. They have taught classes at Ritual Cravt School and co-wrote with Michelle (Agua y Sangre Healing) 'Herbs for Resilience' an accompanying zine from their 'anti-oppression in herbalism' class (2018). They also have been on the riseup! goodwitch podcast. B enjoys gardening, growing baneful nightshades and other types of plants. They also help with farming at Minoru farms in Brighton, CO. In their practice they focus on: plant magic, venerating their ancestors, folk magic, animism, compassionate death care support and giving back to community.


⍫ Laurie Bianciotto is a longtime witch and practitioner of the Poison Path from the South of France. She is also a medium, magnetist, multi-support artist and writer. She's the author of "La Voie du Poison", the first book in French on the Poison Path (éditions Danaé, autumnal equinox 2021).


⍫ Coby Michael (Poisoner's Apothecary) is an occult herbalist and magical practitioner specializing in the ritual use of poisonous and psychoactive plants. He studied religion at Arizona State University and has been a folk herbalist since a young age. He owns and operates The Poisoner's Apothecary, an online shop and educational resource for The Poison Path. Coby has been blogging since 2016 for Patheos Pagan and The House of Twigs, and has written articles for This Witch Magazine, and The Witches' Almanac. His first book The Poison Path Herbal came out in 2021. He currently resides in St. Petersburg, Fl and travels the country teaching people about the plant magic and occult toxicology.


⍫ Trinidy Patterson (Hedgewitch Haus) is a folk practitioner, cartomancer, and occult herbalist residing in Austin, Texas. She focuses heavily on ancestral work, reconnection, healing, necromancy and the Path of poisons. She owns and operates the Hedgewitch Haus and provides accessible high quality ritual and herbal goods. Her written work and art have been published in This Witch and Career Astrologer magazine. She also wrote for a mourning jewelry company discussing the influences of folk superstitions and magics on Western death practices. She lives with her partner, their cat, a small army of mandrakes and a datura.


⍫
Mehdi Richard is a practitioner and Pai de Santo of the Brazilian Jurema cult. He studied anthropology at university in France and Brazil and researched the figure of the Other in Kashinawa Shamanism, exploring the relationship between spirits and outsiders and the dynamics of ayahuasca tourism and its effects on the populations. He wrote a thesis on the Jurema cult, exploring the mechanics of spirit possession and the complexity of the man/spirit relationship. He is currently writing a book that presents the history of the cult, its religious symbolism and rituals.


⍫ Idlu Lili Regulus is a European sorcerer, whose deep commitment to the Arte Magical also led to a complementary academic education in Archaeology and History. Especially devoted to the wild and untamed divine feminine, Idlu's work combines scholarship and intense magical practice to manifest esoteric glyphs emanating from the pregnant darkness of the ever-becoming Other. Idlu is the author of 'Hekate - The Crossroads Dark Goddess' (Ixaxaar) and of the forthcoming 'She of the Night' (Theion Publishing), a book dedicated to the complex figure of Lilith.


⍫
Tugce Okay is the illustrator and creator of @betweenstarsandsoil. She dedicates her artworks, crafts and magickal practices to Poisonous Plants and Fungi with which she works through dreamwork and meditation.Using watercolor pigments and inks of various Poisonous Plants, her goal is to show the true essences and colors of the plants to deepen the connection between the Practitioner and the Spirits. Tugce moved from the magical mountains of Brocken, Germany to the countryside of Sweden, where she deepens her practice through gardening, foraging and Plant (Spirit) Medicine.


⍫
Vini de Monte (@brujeria_iberica) is a practitioner of folkloric witchcraft of the northwest of Spain (Galicia). He carries out Ethnobotanical and Ethnopharmacological research at the Sarela Herbology Institute and at the Namoreiras Ethnobotanical Garden and Aroma Park.


⍫ Mayishtar (he/his) is a practitioner and an occultist specialising in the foundations of magic and the properties of materials, in particular contemporary ones, in an operational setting. He studied art history / archaeology at the University of Lille and graphic design at the Superior School of Fine Arts of Cambrai. His knowledge of toxins was acquired from childhood, specifically from his family.
Surveyor of the Tunnels of Set, practitioner of Thursatru, and devotee of the ancient Slavic religion and Koldun; he interacts on social media on various subjects relating to pagan reconstruction, witchcraft, and magic. He is also a craftsman and the designer of occult tools for the Artefacteur De Quintessence House.


⍫ Selenya (Caravane Circé) is a pagan witch devoted to the magic of the Goddess Hekate. This path allowed her to meet the spirits of plants linked to the myths of ancient poisoners like Medea and Circe. She is the author of a French book on Circe called 'Circe: Myth and Cult of a Solitary Witch' ('Circé, Mythe et Culte d'une Magicienne Solitaire') published in 2021. She lives in Switzerland and works in a caravan fitted out for witchcraft and holistic care.
From The Foolish Fish:

"I'm very impressed with the quality here, both in form and content!
Any Green Path / Poison Path afficionados ++, acquire with confidence!"


Customers who bought this product also bought: